If the luxury accommodation, restaurant and location we provide are "perfect" for hosting the future stars of Formula One Ferrari, it's probably good enough for you!
We have had some tremendously talented young racing drivers and their support teams staying with us in recent months and they have all found us to be an oasis of Andalucian perfection, comfort and relaxation moments away from the intensity of the race track.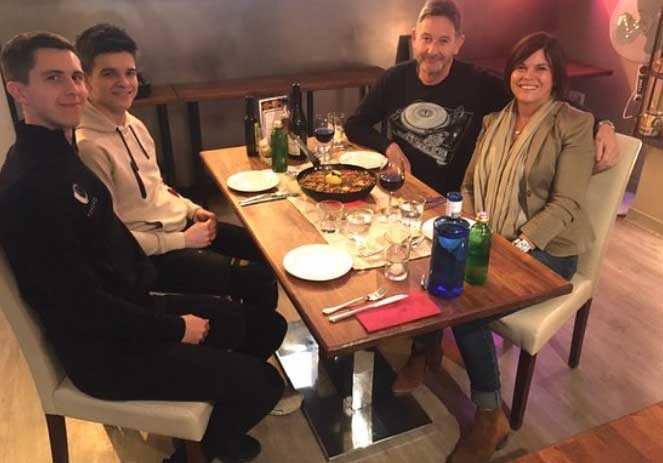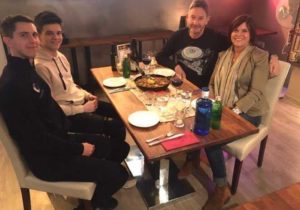 "What a fabulous find. Just 20 minutes drive from Almeria race circuit, this family-run hotel on the edge of a Spanish village is a total gem. Lovely, clean, quiet rooms and beautiful authentic food. A must for our VERY foodie family! Nothing is too much trouble for owners Clayton and Rachel…who made us feel so very welcome. The highlight of our trip was an impromptu pizza making evening, which our teenage son Zak thought was brilliant. We thoroughly recommend Casona Granado. Top marks!!"
Wind-down and rev-up from the perfect long or short pit-stop to the start line of the Tabernas Desert Race Track in just 20 minutes.
If you're a practising speed junkie, or, you get a kick out of hearing the roar and seeing the dust fly as superbikes and motorcars race passed you with exhilarating noise and speed, you will be in daredevil heaven when you visit the infamous Tabernas Race Circuit.
A practice ground for some of the legendary Formula One stars of today and a breeding ground for the stars of tomorrow, the Circuito de Tabernas (or Circuito de Almería), provides racing and motorsports enthusiasts with a special thrill.
Spain Circuit Group is the only 100% privately owned Group of 4 circuits in Spain; Sevilla, Almeria, Andalucia, Iberia. Click here to visit their website.
Situated in the semi-arid lunar landscape of the Andalucian desert – the Circuito de Terbanas is the warmest and driest race circuit in Europe meaning it provides the perfect environment and a popular choice for testing and track day events throughout the year.
Surrounded by dramatic mountains and breath-taking desert scenery, the view of the 4.2km lap with its challenging corners, climbs and descents and a thrilling back straight, deliver adrenalin and atmosphere by the shed load.
Staying here and getting there is spectacular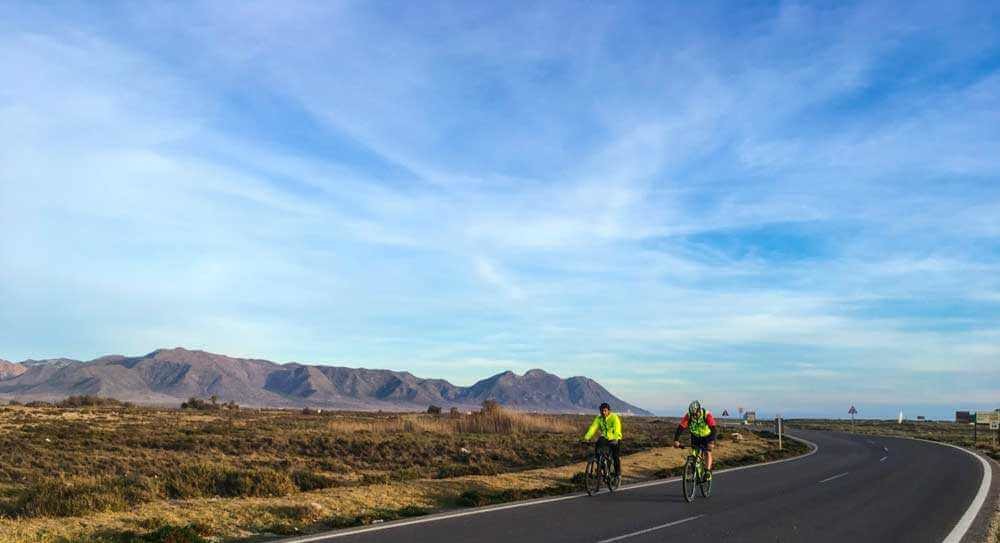 If you enjoy the open road you will love the ease of the journey that gets you from your door here at Casona Granado, your luxury boutique hotel and restaurant, to the nearby Tabernas race circuit. Guided along by the incredibly smooth and gently-winding tarmac, it takes just 20 minutes for petrol-powered vehicles and approximately 1 hour 20 minutes for people-powered rides – depending on if you obey the speed limits, your level of fitness, or how often you stop to admire the scenery! Remember, it's not a race until you get on the track!
Don't be surprised if you feel like you're travelling through a scene from a Spaghetti Western.
That's because many of the westerns filmed between 1964 and 1978 were stories that took place in the dry landscapes of the American Southwest and Northern Mexico. However, these often low-budget movies were commonly filmed in the Tabernas Desert here in Spain instead. Some sets and studios built for Spaghetti Westerns survive as local theme parks, (Texas Hollywood, Mini Hollywood, and Western Leone) and continue to be used as film sets today.
What we offer everyone who stays with us…
The Casona Granado is a beautiful and elegantly renovated traditional building in the heart of the countryside – a luxurious hotel and vibrant space – and a special place to rest, relax and retreat.
We are a family-run boutique hotel and restaurant, working alongside a talented local team who have been receiving worldly guests since 2013. We are all multi-lingual and gifted with making you feel at home and ensuring that your stay is delightful in every way.
A never-forgotten oasis of tranquillity and stunning views of rugged-beauty that can be enjoyed from your room, restaurant, balcony, terrace, or poolside.
Eight stylish and sumptuous bedrooms, all with en-suite wet-room showers, underfloor heating, air conditioning and free access to superfast wi-fi.
In our restaurant, rated as one of the best restaurants in the Almeria area, you will discover delicious locally sourced food and freshly prepared food. Choose from our a la carte, tapas, or sharing plate menus and experience a wide range of wines, beers and spirits, some locally produced.
Add to that the luxury of a salt-water plunge pool and Jacuzzi with far-reaching views and voila, you have arrived in a desert paradise.
Our private event space is perfect for hosting conferences and gatherings of up to 75 people and we can provide and coordinate everything from catering and accommodation to entertainment and transport for you.
Don't just take our word for it…here are some recent Trip Advisor Reviews
Casona Granado hotel reviews
"A perfect and memorable stay" (Posted January 2020)
"Only regret is we stayed one night" (Posted December 2019)
"What a fabulous find" (Posted December 2019)
"Tranquility" (Posted November 2019)
"Beautiful hotel and beautiful location" (Posted November 2019)
"Idyllic days in Almeria" (Posted October 2019)
"Unexpected oasis" (posted September 2019)
"Wonderful mini-break!" (posted July 2019)
"An unexpected Magical Experience" (Posted July 2019)
"A Magical Memory" (Posted July 2019)
"Amazing" (Posted June 2019)
Reviews of our restaurant (Restaurante Albar)
"Brilliant, exceptionally good ambience and decor…high quality food" (Posted Febuary 2020)
"Fantastic food ..great surroundings…unbeatable service..relaxing atmosphere…a not to missed experience if you are in the area..also has fabulous rooms …with amazing views if you require accommodation" (Posted Febuary 2020)
"What an amazing day. Great food. Great service. Surprise birthday. Staff were so attentive and the owners really went out of their way. 11 out of 10. We will be back" (Posted Febuary 2020)
"The Albar is the nicest restaurant for miles around the food is fabulous the best selection of starters, main courses and sweets to suit all tastes well worth a visit we highly recommend it." (Posted December 2019)
There's not too much more we can tell you, except we feel, like you, that we are unbeatable so feel free to challenge us!
Contact us to make your reservation today.