In this edition:
Snippets
Paws awhile – Pets at Casona Granado
Cooking with wood at Albar
Almeria – Spain's Capital of Gastonomy
The Sierra de Los Filabres – mountains to mooch in
Calar Alto for amazing star gazing
A Copper Age Village to explore
Bird watching in Almeria Province
Take a hike or a bike
The Tabernas Desert
Gastronomic Tourism right on our doorstep
And…dare we mention it….Christmas… at Casona Granado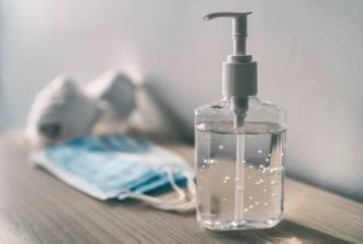 Read all about it! Some snippets.....
Despite travel restrictions and other COVID issues, Casona Granado has welcomed over 700 staying guests of varying nationalities to the hotel this year. We have been scrupulous about our COVID cleanliness and are still thriving – even in these tricky times. The good news is that Andalucia has moved to Level 0 as of October 21, so, fingers crossed, we can all get back to some normality.
For more about our COVID 19 hard work, go to: https://casonagranado.com/bedrooms/#covid-19

And following on from our 'Hoards of Awards' in the last edition, Casona Granado has reached a remarkable 9.4 in reviews on booking.com – an almost unheard of figure. We're feeling really happy and proud. Thank you so much to all of those who have left a lovely review.
Paws awhile – welcoming pets at Casona Granado
Roger Caras said, "For me a house or an apartment becomes a home when you add one set of four legs, a happy tail, and that indescribable measure of love that we call a dog."
The same goes for a hotel. Casona Granado welcomes your pet right along with you. Step right out of the door of the hotel for a gorgeous walk in the countryside with them, eat with them beside you on the terrace and see that happy tail wag in wonder and worship!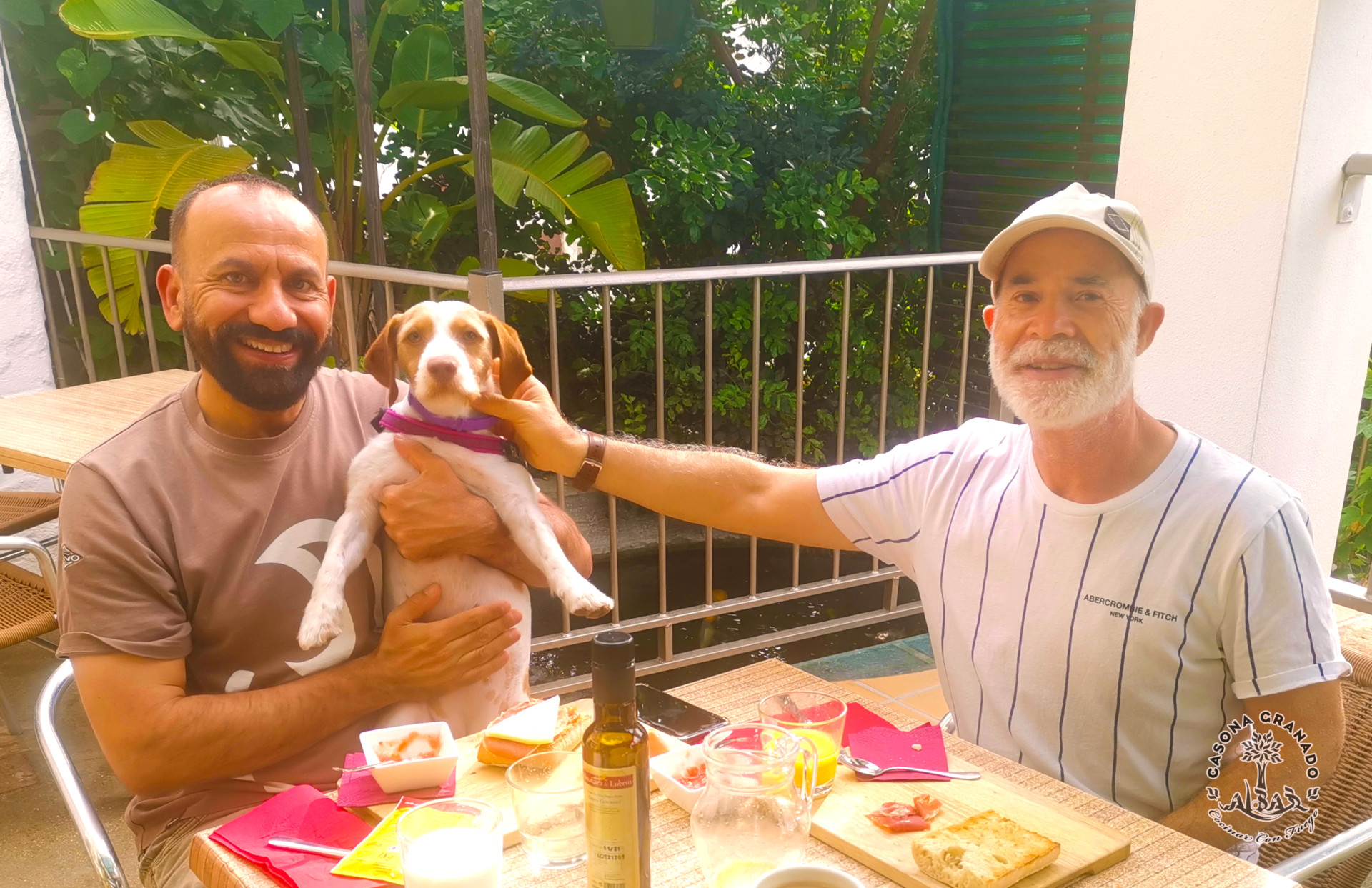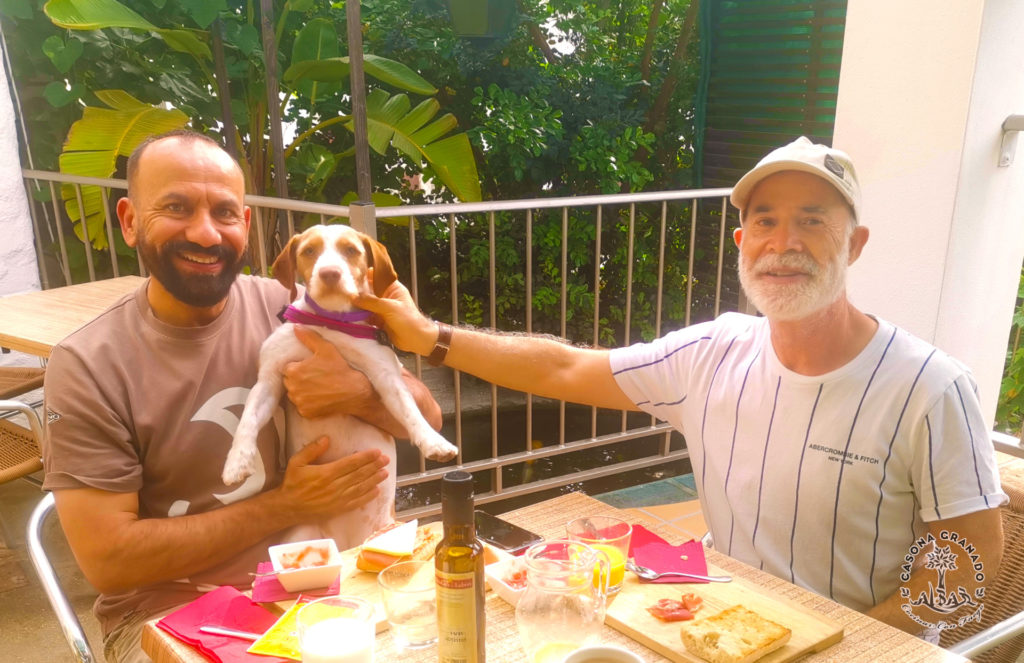 We're making sure that everyone who wants to bring their pet on holiday can be sure of a really warm welcome. We're promoting ourselves on these websites – if you use other dog friendly sites, please let us know at casonagranado@gmail.com
The dog friendly websites that we are going to feature in are the following:
https://www.viajarconperros.es/index.html
How wood is an essential ingredient in the kitchen at Restaurante Albar.
We've found that there's a continuing appetite for authentic, real, low and slow cooked pizzas, lamb, bread, cabrito, vegetables and other dishes that benefit from the 6,000 year-old tradition of wood oven baking.
Valoriani is one of the most prestigious wood oven brands in the world – Jamie Oliver used one of these ovens in his television series 'Jamie at Home', which, when it was screened last February on Channel 4, attracted 2.5 million viewers.
"It's a lovely old wood oven," says Oliver, talking on jamieoliver.com. "I've done a lot of cooking in it. I think it's got fashionable because food tastes better in it. I love cooking in it. It's the old fashioned way. I think if you master the personality of looking after coal or wood in one of these, naturally you become more sensitive to cooking. You don't just turn it on, you are connected to it more. There's something Medieval about it.
We use olive and almond wood, which are particularly good for cooking or smoking food, as they naturally produce lighter, less dense smoke, and therefore gently infuse food rather than overpowering it. We have taken Centuries old local dishes, where the local people realised the fantastic appeal of taking food from the field to the fire, and it's this simplicity and the sensational taste results that is our mark at Albar.
Clayton at Albar says, "The oven possesses this incredible residual heat. We use it for everything from roasting shoulders of lamb and cabrito (local milk fed baby goat) to baking bread and cooking vegetables". The oven is used to rustle up dishes which are sweetly caramelised, have a smoke – infused crunch –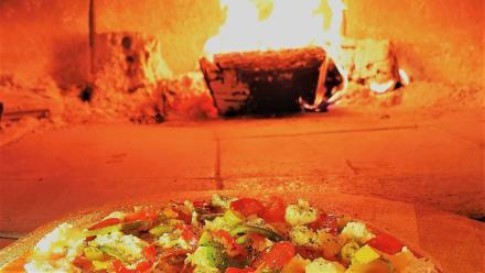 everything from roast pork cheeks, fish stew, made first by softening onions and peppers in the oven, spatchcocked quail simply rubbed with olive oil and garlic before it's set on a wire rack, scorched aubergines and freshly baked bread. Quickly roasting vegetables and side dishes in a pizza oven helps develop flavours quickly, offering crisp exteriors and juicy, tender interiors.
Clayton – who creates bespoke pizzas – says the oven is perfect for conjuring up a crisp-based pizza. "It is the way pizzas are supposed to be made," he says. "Olive or Almond wood gives a real authenticity when used in the traditional campo oven. Because the pizza cooks very quickly in a wood fired oven, it has the effect of imparting a delicious contrast on the finished article. The bottom of the crust will cook very quickly, giving it a really pleasant, charred flavour on the edges that makes it taste just a little smoky, in a great way".
The six best restaurants/Bars in Almería
Spanish Capital of Gastronomy (2019)
For eating as well as for tapas.
Almeria is an oft overlooked province. It has some truly stunning villages and beaches, amazing history and culture and, of course it has the most glorious gastronomic delights. Vegetables and fruit that supply the rest of Spain and Europe are grown in abundance here, the olive oil, goat's cheeses, red shrimp from Garrucha (just down the road) and all the traditional dishes that the region is known for.
In 2019, Almeria, the Capital of the province, took over from León, judged as the Capital of Gastronomy awarded by the jury for these awards comprising the Spanish Hospitality Federation (FEHR) and the Spanish Federation of Journalists and Writers of Tourism (FEPET). These and numerous organizations and institutions related to tourism and gastronomy took part in the judging.
The jury also highlighted traditional dishes such as gurullos, migas or the thick wheat based soup "olla de trigo". The jury also wanted to make reference to the typical tapas of the city, which "allows you to eat very well for six or seven euros".
To enjoy its rich cuisine if you visit the city (and beyond), TripAdvisor recommends six of the top restaurant/Bars that you can be rest assured to not miss out on the flavour of the Andalusian capital. And Albar is the only out-of-capital restaurant mentioned in the top six. The full article is here: https://www.huffingtonpost.es/2018/10/17/almeria-capital-espanola-de-la-gastronomia-2019_a_23563664/.
Or take a look at this article: https://www.guiaturisticoalmeria.es/en/almeria-y-sus-10-restaurantes-esenciales/?utm_source=rss&utm_medium=rss&utm_campaign=almeria-y-sus-10-restaurantes-esenciales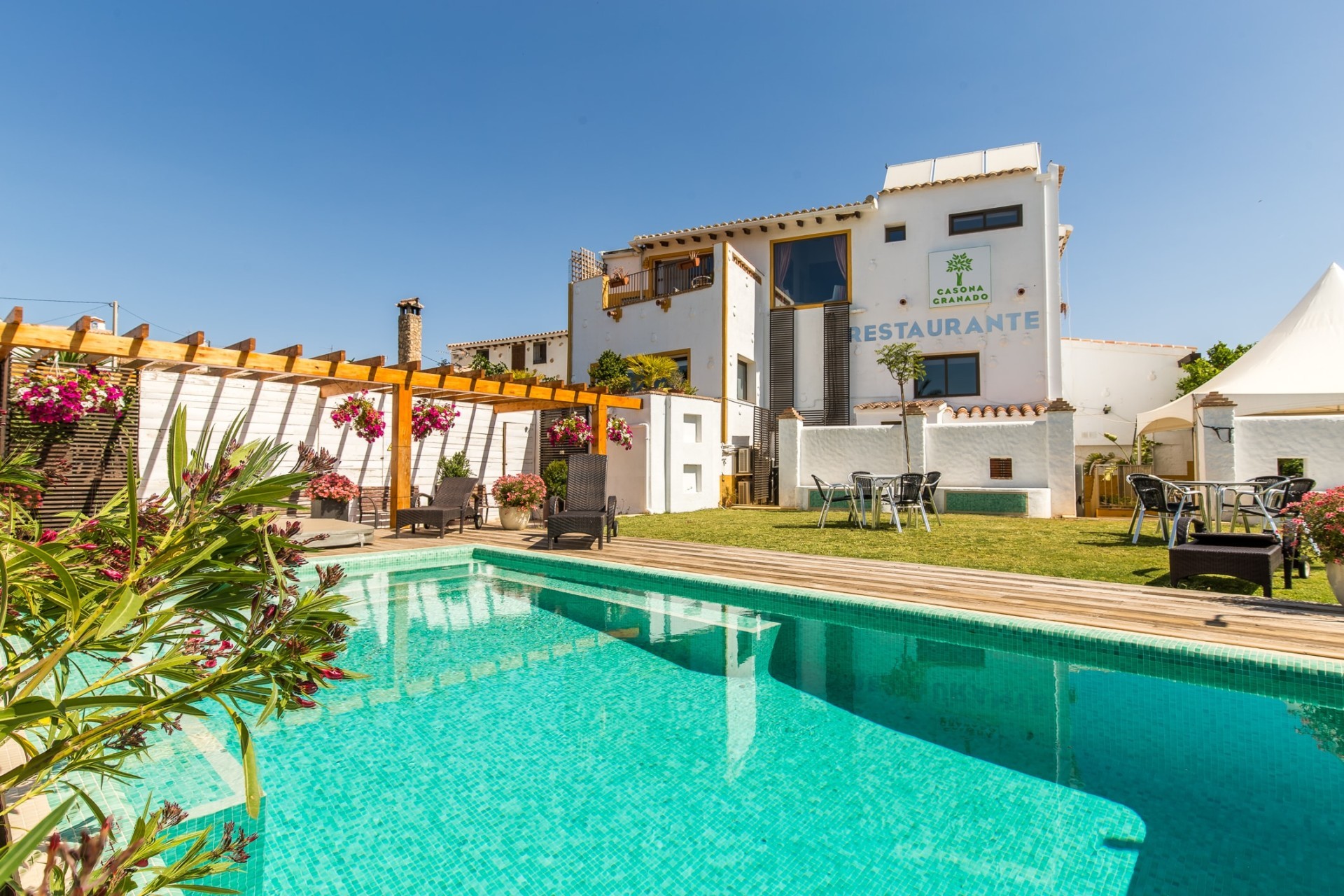 Here's what they say about Casona Granado's Albar:
Restaurant Albar
Try: Casserole with seafood and fish from Albar restaurant.
129 reviews and an average rating of 4.5 / 5
The only restaurant to be chosen outside of the Capital, it is located in the small village of El Pilar. It is the place to visit with the 8 bedroomed boutique hotel ideal for families. In this restaurant you can find artesanal pizzas and traditional dishes made with local products. Visitors highlight the location, with a large terrace. It can be found amongst white-washed houses in the hamlet, that are the tradition throughout the province.
The Sierra Filabres... a leading destination in the mountains of Almeria
The Sierra de los Filabres is the largest and most central mountain range in the province of Almeria and is part of a chain of mountains extending eastwards from Granada province. They form a surreal landscape of dramatic hills and valleys, rustic, whitewashed villages, abandoned hillside hamlets and deserted cortijos. The lower hills and valleys sport an abundance of almond and olive trees, higher up the mountains the countryside switches to woodlands, having been reforested, the area is abundant with holm oaks and pine trees creating an excellent habitat for bird species. The different seasons make the backdrop to Casona Granado change – in the Spring and early Summer, the verdancy is obvious, Autumn and Winter bring stunning changes, especially the snow peaks of deep Winter and in late January and early February when the Almond blossom appears and the lower hills are just delightful to behold.
The Filabres offer mountain activities only half an hour or so from the stunning Almerian coast. We're in the South East of the range where the white washed villages are in abundance. Lubrin, Bedar, Uleila del Campo and Sorbas are all a stone's throw from the hotel and, of course, El Pilar, our own pretty, typical Andalucian village (or 'Pueblo Morisco', as the Spanish describe them) is snuggled in the foothills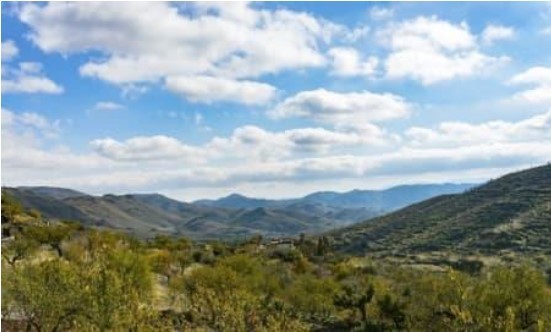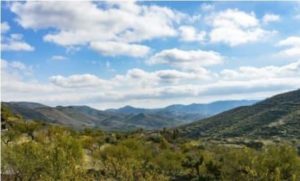 The Calar Alto, part of the Filabres, is the highest peak in Almeria and hosts an important astronomical observatory, which you can visit, (see below) just an hour's drive from El Pilar.
The sea used to come up to the foothills of the Sierra de los Filabres and you can still find reefs of fossil corals from this age remaining as testament, closely marking the position of the ancient coastline. The flora and fauna of the Filabres – too vast to list here – are abundant and folk still trawl the foothills foraging for wild garlic, thyme, mint, chicory and an abundance of other wild growing goodness.
https://choose-almeria.com/sierra-filabres.html
The Calar Alto Observatory – The Height of Amazing Science
The Astronomical Observatory of Calar Alto is the largest of its kind in continental Europe, with professional telescopes up to 3.5 metres aperture. It is a joint venture in international science operated by the Institute of Astrophysics of Andalusia (Spain) and the Max Planck Institute for Astronomy in Heidelberg (Germany).
You can visit the observatory, which lies an hour or so's drive from the hotel. The visit includes an instructive lecture about the observatory, the scientific use of telescopes in astronomy, followed by the visit to the building of one of the telescopes *. You MUST bring warm clothing because it can get mighty chilly at 2200 metres altitude – even in the Summer and the domes are cooled to the outside night temperature. The weather conditions at this height can be unpredictable and can change dramatically in a short period of time.
The tours are guided by qualified personnel with scientific training and last approximately 1.5 hours.
* The telescope you visit will depend on the availability due to scientific and maintenance tasks. And usually the first choice will be the 3.5-metre telescope.
Visitors can make reservations (visits only by reservation) and for groups, the Observatory ask that you email – for general public visits, you can book via the website. The visits are not suitable for children under eight because of security issues.
Check on the website for dates and times – it's usually open at weekends and prices for individuals are around €12. Group bookings will likely be cheaper.
More information here:
A Copper Age Village in the Heart of Andalucia
The Los Millares village is a Chalcolithic (between neolithic and Bronze age) excavation in the municipality of Santa Fe de Mondújar in Andalucia – about 45 minutes from Casona Granado.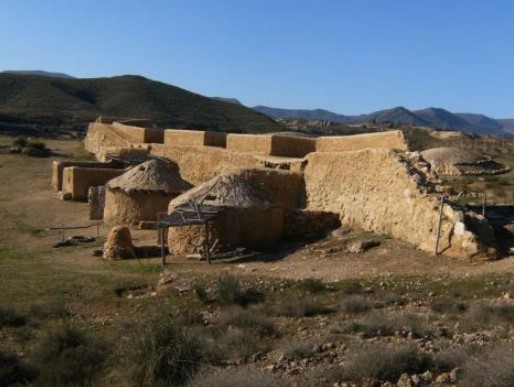 It was discovered in 1891 whilst the construction of a railway was underway and excavations are still ongoing. The village probably supported around 1,000 people from 3200 and 2200 BC.

Los Millares presents an extraordinarily complex functionality for its time and is made up of four lines of concentric walls, a necropolis of tombs and no less than thirteen forts.
The village occupies an area of about 13 hectares and includes a number of ceremonial structures alongside the tombs, which are distributed in small groups, reflecting the family, social and symbolic relationships of the village at the time. The main economic activity seems to have been agriculture, livestock and hunting along with other specialised occupations like blacksmithing and metallurgy.
When you visit, there's a visitor centre with loads of information about the site and its excavations and an audiovisual area to help you understand the site better. There are various possible routes through the site and it'll take you around 2.5 to 3 hours to discover it all. Bring comfie shoes, a hat, sun protection and water. You need to book in advance by phone or email millares.aaiicc@juntadeandalucia.es. It's open from Wednesday to Sunday from 10-2 (closed on most regional and national holidays so check first) and entrance is free.
More information here:
https://www.juntadeandalucia.es/cultura/enclaves/enclave-arqueologico-de-los-millares
A Chronicle Crumb of Consequence
Almeria Province – It's the driest place in Europe
The Tabernas is largely responsible for making Almeria the driest city in continental Europe, with annual rainfall of just 200mm. It is also the second-warmest city on the continent (first place goes to another Andalusian gem, Seville), with annual temperatures almost never dipping below 19C. As if that weren't enough to entice sun junkies, a temperature below freezing has never been recorded in Almeria.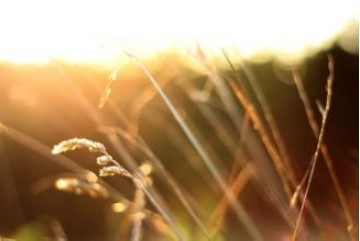 Our feathered friends also love Almeria
Almeria province offers a unique ornithological paradise. Our climate, varied landscapes and geology all contribute to an amazing abundance of our feathered friends. There is such a diversity of environments with differing vegetation, coastal wetlands, forests, rugged shorelines and, of course the desert and the mountains, that many areas have special protection to preserve the natural environment and encourage more birds and other fauna. 
The 'Choose Almeria' site suggests, "Birds of prey such as Bonelli's Eagle and the Common Kestrel can be seen around the mountain ranges, while the coastal lagoons harbour Grey and Purple Heron, Storks, Cranes, Avocets, Plovers, Waders and Ducks and the rare Dupont's Lark. Sea bird species include Yellow-legged Gulls, Terns, Razorbills, Shags, and the occasional Puffin".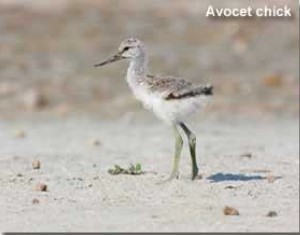 They suggest the following for particular bird watching destinations in Almeria:
• Cabo de Gata Natural Park including the Las Salinas de Cabo de Gata wetlands
• Punta Entinas – Sabinar nature reserve – Almerimar – Roquetas de Mar
• Albufera nature reserve -Adra
Folk often ask us, "You're rural – what can we do around there?"
Well, to be honest, we'd overload you if we listed everything all at once, but we'll talk about them all in future [newsletters]. Aside from what the hotel itself offers – yoga, massages, eating etc …etc, rest assured, there's heaps to do in and around the captivating locality.
Today, we're going to focus on the walks, hikes and bike rides that criss-cross our beautiful area.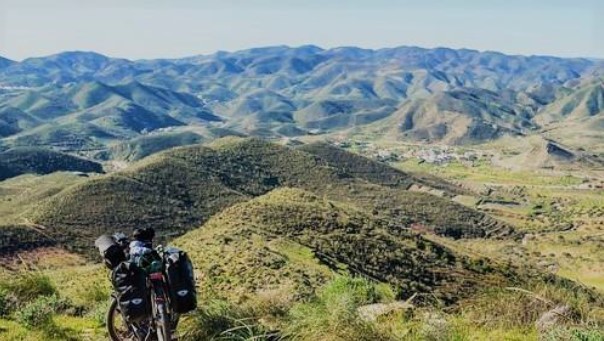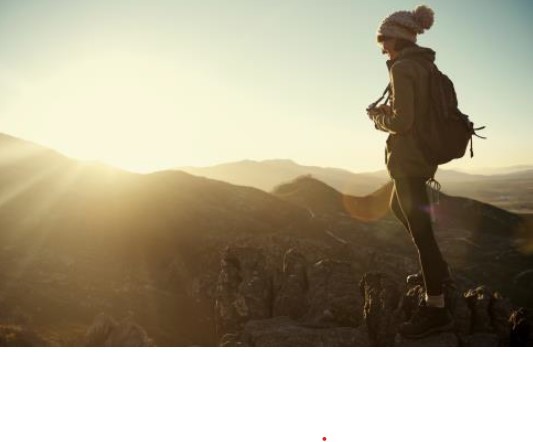 Whenever there are mountains, there are always views and that's certainly so very true of this region. But, you don't have to hike or bike up the glorious Filabres – the less than über fit can still enjoy the rolling foothills, valleys, villages, quaint little bars and restaurants, unique geology, stunning views and experience the incredible peace and tranquillity that the region offers in abundance.
Of course, you can just walk out of the door and wander for hours in effortless, or more demanding terrain, there are registered walks directly from the hotel depending on how you're feeling – check out the hotel website. But, there are a whole bunch of walks nearby too that are known for their particular views, interesting geology, history and awesome tranquillity.
Just a twenty minute drive from the hotel, gets you to the start and end of, probably the most famous trek nearby – the Los Molinos de Rio Aguas trail – an 8.5 km loop hike. Rated 'moderate', it features a rarely seen (in this area) river and is best used for hiking between March and October. If you still have energy left, you could pop into the awesome Cuevas de Sorbas nearby and explore the more than 1,000 cavities and kilometres of galleries, all with a guide and specialist equipment.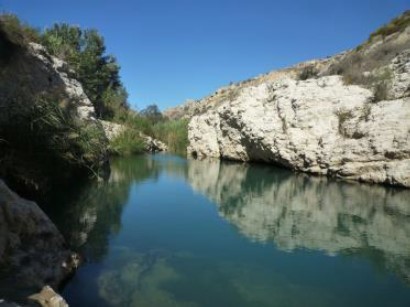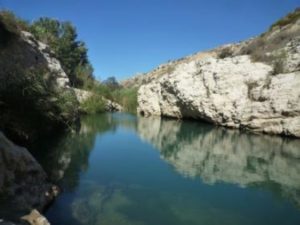 Then, there's the 'Fuentes de Lubrín' route. This is another looped path that begins next to the old Lavaderos in Lubrin (next to the AL-P-813 road) and only a ten minute drive from the hotel. It's described as 'easy' and it's 14 km in length. You'll see how the local people made the most of the Almeria water when it ran – ruins of water mills, old wells and beautiful old farmhouses and cortijos and some wonderful views. Then back into stunning, whitewashed Lubrin for a welcome taste of the local, award-winning honey, goat's cheese and olive oil at one of the myriad bars there. This is a lovely walk.
Another fabulous walk is the Ruta de la Minería de Bédar. As the name describes, this really attractive hike is rated moderate and features the remains of the small gauge railway – tunnels and engine sheds etc., ancient mines with amazing-coloured rock, as well as some beautiful wild flowers. The hills and valleys around Bedar (another beautiful village worth visiting) are rife with the ruins of a bygone age when mining iron, lead, zinc and copper was a principal employment. It is fascinating. The hike is an 11.4 kilometre loop trail (we like a loop) located near Bédar – about a twenty-five minute drive from the hotel through gorgeous countryside.
For more information on this walk try: https://www.visit-andalucia.com/one_post.php?id=802&title=bedar-walk-through-a-mining-landscape
I've just picked three of the many, many hikes, treks and walks in the area. There are a countless more!
For the many and various trails, hikes and walks in the area – try www.wikiloc.com or www.alltrails.com
And for walks directly from the hotel, go to; https://casonagranado.com/almeria-activities/
These websites can also be used for discovering the area by bike.
Again, there are some fabulous bike routes around the area. The roads are quiet and some are easier than others! You can jump on your bike and just explore the myriad Andalusian villages and towns, or follow some of the ideas featured in wikiloc, alltrails or one of these websites:
www.epicroadrides.com/cycling-spain/almeria/
Almeria is relatively undiscovered for biking, which is fantastic for those who do discover it! For those hearty types, one of the best known rides is the Puerto de La Virgen and Valley of the Blocks ride.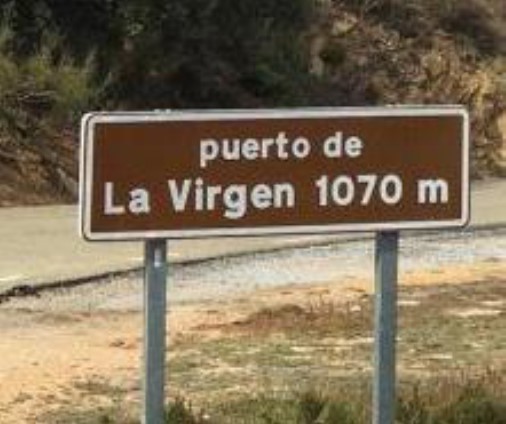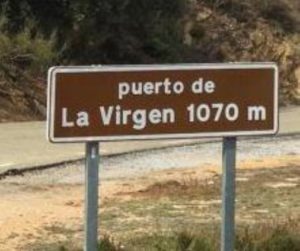 Ten minutes from the hotel (or a 30-minute bike ride) is the village of Uleila del Campo where you start this ride. You ride on good quality roads through some quaint villages and see some amazing views. It's 55 km long and you climb 1,320 metres so it's not for the faint hearted. You can find more information here: https://www.epicroadrides.com/cycling-spain/almeria/puerto-de-la-virgen-route/
The Sierra Bedar and Antas loop can start in Mojacar – on the coast, or you could pick it up in Lubrin and do the loop and it features amazing hairpin bends, stunning scenery and some great villages and towns. It's 83 km long and you climb to an elevation of 1,390 m, so again quite a hard ride.
https://www.epicroadrides.com/cycling-spain/almeria/sierra-bedar-antas-route/
And then for those who want an easier life, the Vías Verdes (literally, "green-ways") are old, disused railway lines that have been recovered and reconditioned for use by walkers and cyclists (but no mopeds or motorbikes). They're dotted all around the region and more are opening all the time. They range from one kilometre long to 190 KM and are a great way to explore the province – cycling or walking and most are accessible.

Find out more at: https://www.viasverdes.com/en/principal.asp
However you explore our beautiful area, it's easy to do from Casona Granado and after all your exertions, come back to the hotel for a delicious home cooked meal, a relax by the pool and maybe a massage!
A Chronicle Crumb of Consequence
"Fiesta" is a single by The Pogues and was written by Jem Finer and lead vocalist Shane MacGowan. You'll know it if you hear it! It's based on a Spanish fairground melody that Finer had picked up in the fiestas of Almería. The lyrics refer to Almeria, as well as former bassist Cait O'Riordan's departure from the group, and subsequent marriage to Elvis Costello.
"Fiesta" was the last Pogues singles to make the United Kingdom Top 30, while MacGowan was with the band. In typical Pogue lyricism, the chorus starts:
Come all you rambling boys of pleasure
And ladies of easy leisure
We must say Adios! until we see
Almeria once again
To listen and watch: The Pogues – Fiesta
Tabernas Desert
A desert? In Europe?! Yep.
The Tabernas Desert is one of Spain's hidden gems. It's only half an hour or so from Casona Granado and is literally a hot spot for filming movies and TV shows (Game of Thrones, Sergio Leone's spaghetti westerns, Oscar winning 'Lawrence of Arabia', Indiana Jones and the Last Crusade …I could go on!) because of its similarities with North American deserts, northern African and Arabian deserts, and its lunar-like landscapes.
It's a nature reserve which spans 280 square kilometres and is sandwiched between the 
mountains of the Sierra Nevada, Gador, Fiabres and Alhamilla. It's honestly one of the most stunning, nay, startling landscapes in Spain, if not Europe.
Strange rock formations, dried-up river beds and gullies and oddly eroded ravines meet desolate, weirdly angled and stark rises and dips, all formed more than eight million years ago when the sea covered the desert right up to the foothills of the Filabres.
Low rainfall, followed by torrential downpours and temperatures between -5°C and 48°C have rendered the desert practically barren, meaning very little agriculture exists leaving the landscape barren and completely fascinating. But, a myriad of bird species makes their home here, especially around the arid gullies and dry river bed walls.
But, look more closely and there's plenty to see and do in the desert.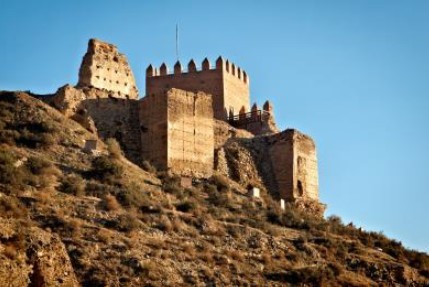 Right on the edge of the Desert is the town that bears its name – Tabernas, with its multitude of restaurants and bars, Moorish castle ruins (I recommend a walk up to the castle – fabulous views), and 15th century Mudéjar church.
On the very edge of the desert is Gérgal, with its Lombard style 16th century, well preserved castle (today, a private residence) and Mudejar church, all harking back to its Moorish history. Within Gérgal's municipality, and just outside the town is the highest point of the Filabres at 2,168 m and the 
Calar Alto Hispano-German Astronomical Observatory (see earlier in the newsletter) sits atop it. You can visit the site and enjoy the invigorating scenery and guided tours of the grounds and facilities.
A set that was built for Sergio Leone's 'A Fistful of Dollars' is now a reproduction American Wild West village called Mini Hollywood. The set was also used for 'The Good, the Bad and the Ugly' and the 'Magnificent Seven'. There are live shows, a huge zoological reserve, pool areas and a large range of restaurants, educational activities and events and celebrations management.
And, of course, there's an easy linear walk (or cycle) of 8km – 16 km back and forth – called the Sendero Rambla de Tabernas. But, don't forget to load up with water and sunscreen! It's best to avoid this in the height of summer, but great in the Spring. You walk or cycle along the sandy bank of a seasonal river (rambla) – fascinating.
an innovative option for visitors to Lubrin and only ten minutes from Casona Granado.
Located on the slopes of the Sierra de Los Filabres, and very close to the Levante Almeriense coast, with very good communication from the Autovía del Mediterráneo, Lubrín is a town very proud of its gastronomy.
Its goat's cheese from the Los Filabres Cooperative, and its excellent olive oil, made in the Lubrín Oil Mill, are well-known products.
There are two bakeries where breads and sweets are made every day with traditional ingredients and cooked in wood-fired ovens. In the two butcher shops in the town you can find artisan sausages and a range of excellent cuts, always of a high quality.
Walking through the bars and restaurants of the oldest streets of Lubrín, you can have an endless variety of tapas and wines. Using local products such as vegetables, almonds, meats, oils and wines. You will also find restaurants with an excellent and tasty menu.
Participation in the two largest festivals in Lubrín, which are linked to the food of this town, is another way to appreciate our local products and our gastronomy.
The feast of our patron, San Sebastián, celebrated on January 20, culminates in a shower of bread rolls, so this feast is colloquially known as the Feast of Bread. Lubriñenses share tables and have a great snack in the square.
In October we celebrate the feast of the Virgen del Rosario, our patron saint, along with the Festival of Rural Food. There is a competition of typical dishes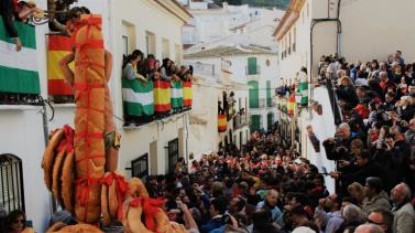 and tastings not only of the dishes in the contest, but also of other products from the land.
The local Tourism office can offer a bespoke package to lovers of gastronomy, but for visitors who would like to go it alone, there's an excellent tapas route which the tourism office can let you know all about.
A Chronicle Crumb of Consequence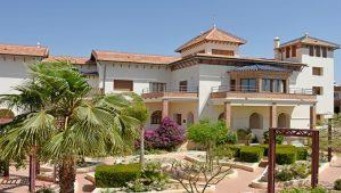 The crumbs stick to a music theme this edition. It's not terribly well known that John Lennon wrote Strawberry Fields Forever in Almeria. He lived in the city in autumn 1966, filming the part of Private Gripweed in Richard Lester's black comedy How I Won the War in the desert at Tabernas. Lennon first stayed in an apartment near El Zapillo, one of the 
city`s beaches, then he moved to the more spacious 19th-century mansion, Santa Isabel, on Camino de Romero (known locally as Cortijo Romero), with his then-wife Cynthia.
The city council has now refurbished the then derelict villa and it's now a Cinema museum called 'Casa del Cine' displaying 1960's and 70's film-making exhibits and an area dedicated to the Beatle.


Christmas is very nearly upon us and we're getting excited at Albar (especially Rachel AKA Mother Christmas)
We are once again offering our Christmas Day menu exclusively to our loyal V.I.P. customers.
So don't delay and miss the sleigh!
Reservations being taken
Call Rachel on 0034 647 877 091