Written by Iñigo Pedrueza
Charming accommodations, much more than a place to sleep.
One of the specialties of El Giróscopo Viajero is that of charming accommodations. Charme accommodation, which is better in French, hotels or rural houses, boutique hotels, rural houses, quality Bed and breakfasts, the names are multiple. Beyond the names, these places always have a common essence, something that makes them unique places to stay and discover the territories that surround them.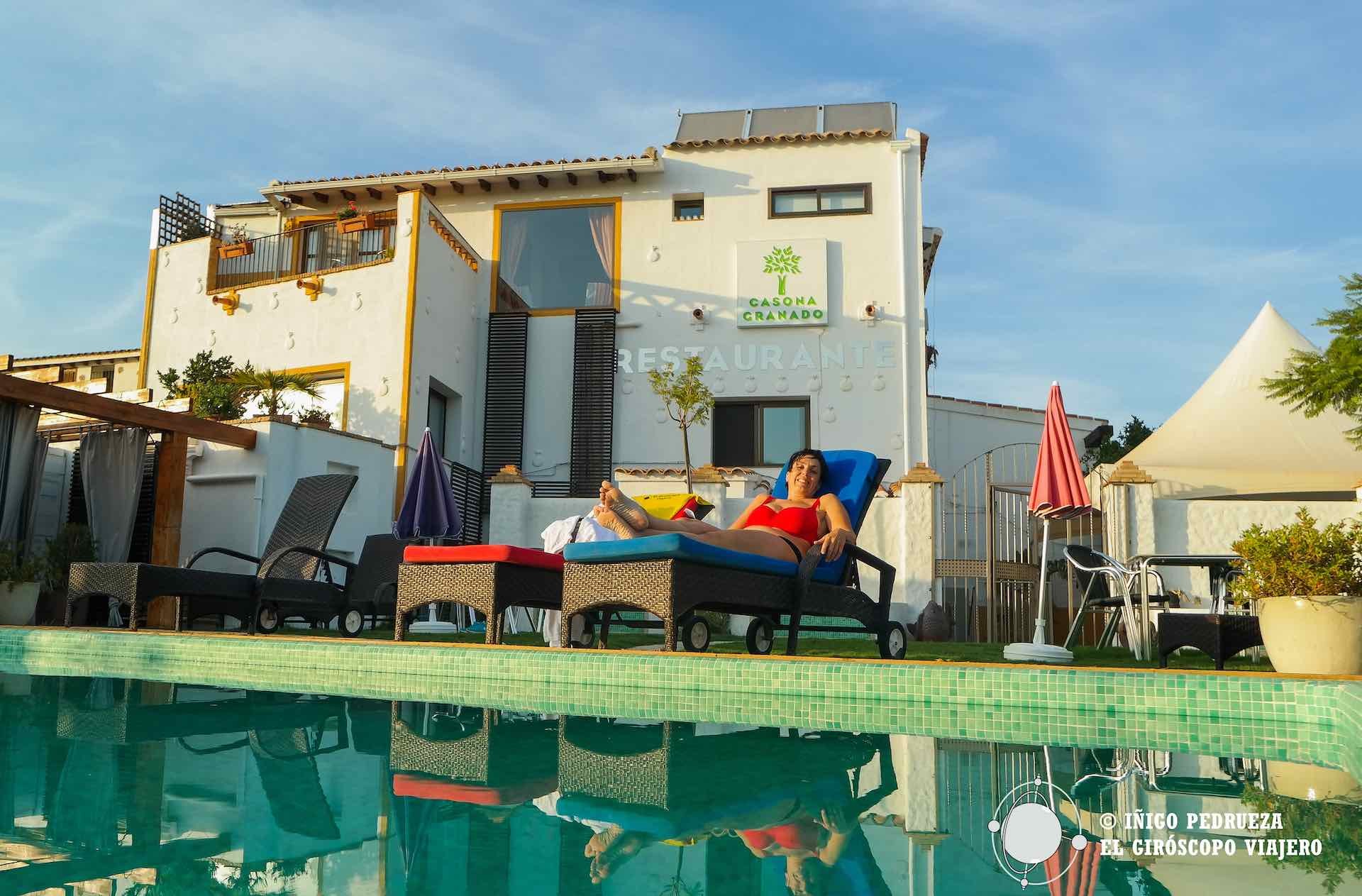 And what is that common aspect to all these accommodations? Because it is not about luxury, facilities or specific services. These are almost always present in the special accommodations that we want to celebrate and share. Nor is it the price, which does not have to be exorbitant and, unfortunately, many times it is not necessarily in line with the quality of a certain establishment. It is not about the destination, the place, the charming accommodations are distributed throughout the planet and all destinations. There is no obligation to be in paradise islands or glamorous cities. Heaven and hell always coexist within a few dozen meters, on this Earth, which is our only world. It is not even the size. It is true that, generally, they are small or medium-sized structures,boutique , charm and charm. So what is really the characteristic that brings these charming accommodations together?
The key is simply the human factor . After the best projects, after the most exquisite and most pleasant boutique hotels, the rural houses with more character and more attractive, there is always, always a human team, people who are the true differential value of the project . It can be a person, a couple, a family, a group of friends, or a great team. It does not matter, there will always be a human group around which the accommodation, the destination, the activities and the services gain value, interest. In the same way, these types of projects end up being catalysts, becoming a vector, a sun that illuminates, a magnet that attracts other entrepreneurs and other people who want to change and improve, a town, a region, a region. So today we have to talk aboutClayton Morley and Rachel Frewin , promoters and owners of the charming hotel Casona Granado and El Albar Restaurant , in El Pilar de Lubrín. In Almería , in a beautiful corner of southern Spain.
Repopulating empty Spain.
A room as cozy as it is not very ostentatious. Quality is expressed in the essentials.
Andalusia is well known for its coast and its large cities, such as Seville or Malaga , but much less so are some areas in the interior of Granada , Huelva, Cádiz, Córdoba or  Jáen . A good part of these areas suffer from depopulation, derived from the economic attraction of the coastline and cities, which leads to serious socio-economic problems. The viability of a territory is based on its occupation, on the diversification of productive activities and adequate access to public services. The problem is not unique to Spain. Many regions of France, Germany, Italy, Portugal, and other countries of the European Union,they suffer from this polarization that concentrates around a few cities, -or regions-, the population, state services, employment and economic growth . This generates imbalances that cost the States millions and millions of euros, and that cause tension, social inequality and undesirable political drifts. The State has to allocate many resources to areas of high population density, reducing its action in less attractive regions and regions, which increases the effect. This process generates accelerated vicious and virtuous cycles, with which the countries are not a uniform mesh of opportunities and services, but checkerboards that combine depopulation with saturated conurbations where prices skyrocket.
Clearly, the trend is not positive and the coronavirus crisis has highlighted the problems of this process: lack of assistance and services in rural areas and overcrowding of large urban areas . Changing the trend is complicated because it requires a lot of resources, effort and time. However, there are  certain changes in mentality, derived largely from the health crisis that we are suffering. Many digital workers who can make the internet their tool and work channel, and many entrepreneurs who already had the change of location in mind, begin to look for places to settle.They are willing to change the city, and even the country, for smaller cities or rural areas where it is possible to create new projects and enjoy a higher quality of life.  The Traveling Gyroscope, together with public and private institutions, collaborates in the development of attractiveness projects for professionals and digital nomads. Thanks to our promotional trips and our training, we have been defining these projects that also affect us directly. Andalusia, without a doubt, is one of the Spanish regions with the greatest potential for this. But we want to emphasize that we have not discovered America, far from it.To a large extent, everything we know and can share, we have learned from the work, effort and passion of people who, like Clayton Morley, have taken the step with little help or recognition, driven only by the courage of their work and the conscious fury of your dreams. That is why we dedicate this article to him.
Casona Granado an example that shines in Almería Vaciada.
The concept of Empty Spain, which can be changed to Empty France or Empty Italy, refers to Spanish provinces whose population density is similar to Lapland in Finland . Unlike the Finnish region that has established itself as a sports and nature tourist destination, which is another of our specialties and that we visit repeatedly , the regions of Emptied Spain have many socioeconomic difficulties and continue to lose population. Clayton Morley and Rachel Frewin arrived in that emptied Almería in 2002.
British from London, they have traveled the world, they have lived in Australia and other parts of the globe to end up captivated by Spain and, especially, by a bend in the province of Almería. Casona Granado was born in the uncertainty, in the middle of the surprise of the inhabitants of the area, who did not think that their town, their region could attract tourists and diners. The case of Clayton and Rachel is paradigmatic since it shows how indispensable an exogenous look is. The obligatory presence of people coming from outside, to comfort all those who, from the inside, try to show the value and potential that every place contains.
Unfortunately, and we know it well, it is very difficult to be a prophet in your land. The opinion, expert or not, of the visitor, of the arrival, is usually valued more. It is a fact, that is why we take advantage of our work as an opportunity to share in our trips all the opinions and ideas, all the cases that we have been able to contemplate before and thus, collaborate in the tourist and economic development of the destinations we promote. That is the added value of El Giróscopo Viajero. In addition, for us Our Earth is the one we walk on every day. And our brothers all those who, always, welcome us so well in any corner of the Globe. However, make no mistake, we are only reporters and accountants. We have not suffered, nor have we faced against the impossibilities and daily problems, those who have had to overcome all these entrepreneurs, public officials and staff of Tourism Offices. They beat copper every day to show that their projects are viable and to make them profitable; to make their destinations attractive and necessary. We have arrived when everything was working, we have had the privilege of seeing it and enjoying it, and, therefore, the obligation to share it.
A personal story leads to a regional catalyst.
But let's go back to Clayton, who cooks a delicious dinner for us with his hands in that Moorish oven that he had made by the best craftsmen in Europe. A Moorish oven that glows with embers and flames inside, with sparks and vivacity, like the eyes of our host. The eyes of those who have passion always shine and transmit a lot. They express a path, the efforts, plagued with obstacles, and the victories full of pride, of the good. From London, Almerienses already, traveling the world and installed in the Pilar de Lubrín since 2002. El Pilar de Lubrín, a tiny district with 50 inhabitants, four kilometers from the town center. Lubrín, is a municipality in the interior of Almeria (1500 inhabitants) supported by the most Levantine stowage of the southern slope of the Sierra de los Filabres. A town that chews the breath of the Tabernas desert and breathes from the moist treasures that lie below. On the most fertile slopes, between mountains and desert, a bright orchard in the middle of arid hills. There they pitched their tent Clayton and Rachel. Almost twenty years of intense work to start a project, for which, as always, at the beginning no one gave a penny. Luck and work became allied, but only because work sought luck.
Today Casona Granado stands out for its transversal project, which ranges from the social to the touristy. A restaurant and a bar open to the whole town. A hotel that welcomes travelers who are committed to tranquility and quality. Clients who are willing to do more kilometers, pay more money and enjoy more time. A risky bet but, finally, much more fruitful, since it works a niche and does not compete, but is complemented by the hotel and tourist offer of the Almeria coast, Cabo de Gata and Mojacar. In addition, the passion for this host country was reflected in the birth of their children. In fact, when their first daughter was born, it had been many years since a child was born in El Pilar de Lubrín.
Converting an Almeria mansion in the Sierra de los Filabres into a boutique hotel with charm, design, the best of services and maintaining the local character, was not easy, but it has been achieved. The windows are wide and let in the Mediterranean light, maintaining certain Arab reminiscences. A contemporary design but based and drinking from local sources, it takes advantage of the structure of the old Casona Granado. Discreet but substantial modifications, such as those windows from which you can see the pool, the garden and the surroundings of El Pilar de Lubrín. A hotel that highlights the landscape where it is located, with that Almeria climate that combines delicious desert (don't forget that the feather comes from the north) and oasis greens, watered vegetation.
The decoration of the 8 rooms is modern, colorful and bright. The whitewashed walls of the walls stand out. The apparent beams of the ceilings with their telluric earthy and hardwood color, support and define the spaces. Very comfortable beds and spaces fully adapted for people with reduced mobility or the disabled. By having few rooms, the service is impeccable and personalized, you only have to request what you need. This is not a detriment to a great variety and flexibility in the rooms and their potential uses, whether for a person, couples, families or more oriented towards business stays. The continental breakfasts, have the delicacies of the region and the entire province of Almeria. Seasonal variations in products make delicacies even more delicious,
The Albar Restaurant is the perfect complement that adds shine to the Hotel Casona Granado. A restaurant where Clayton and his wife Rachel express their personal vision of an international cuisine perfectly anchored in Andalusian, Spanish and Mediterranean gastronomy. The dishes are very diverse, ranging from delicious pizzas from the Arabic oven, to the most select dishes and gourments. The menu undoubtedly drinks from the thousand influences and the thousand trips of the couple who run this charming hotel. Open to the general public, the restaurant is of course available to guests for lunch and dinner.
Logically, it has opted for local products, from the orchard and fields of the Almanzora, Levante and Sierra de los Filabres regions : Vegetables and vegetables, honey, meat and fruits. Not because of chauvinism, but because of intelligence, because the local, if produced with care, is better than the industrial. In addition, a fabric of economic relationships is created that accepts the newcomer much better, because a positive sum is being created where if everyone works well, everyone wins. In the end, what is important are the ideas, the facts, the frankness of who speaks as he acts and acts as he speaks.
Betting on change: Casona Granado, transversal project.
A lot of work, a lot of sleepless nights, but an intense, heartfelt passion and the ever-present litany of never standing still. Therefore, it is not uncommon for Clayton to be one of the promoters of the Rural Food Fair. A key event to give visibility and value the work of farmers and ranchers who can thus live off their efforts without depending on large buyers or supermarkets. Nor is it surprising that Casa Granado also collaborates with the Almería International Film Festival (FICAL) and with the Green Screen Festival , an international film and photography meeting that had to be held in June and has had to be postponed.
Casona Granado is immersed in all cultural and environmental activities that seek to preserve the life of the region and avoid desertification, natural and human. Examples such as Clayton's show that the approach to current problems also needs a micro vision, of people from here and there, that does not matter, but that they share passion, capacity for work, perseverance, patience and broad outlook.
The tourism of the future is quality tourism.
The commitment of Clayton and his family, is and has always been quality. Today it is impossible to compete on price with the giants of the sector. But it is very feasible to do it with the quality and specialization of products and services. Tourism, like the mass industry, is already taking over. However, there is a lot of space for those who bet on niches that are still empty, without supply, but full of unmet demand. The advantages of the niches is that since they are empty, they happily welcome the first to arrive, the first to bet on meeting the needs of those groups, sectors, places. The second advantage of niches is that, by definition, they are aimed at less numerous clients but with greater spending capacity and, therefore, they force to offer greater added value, requiring less investment but with greater profitability. This does not mean that it is easy, since the investment potential of entrepreneurs is not comparable with that of large companies. Work and passion fill that void.
Personal projects, life changes that change places.
Charming accommodations like Clayton's often deserve all they have, because they've earned it all. The walls, many times raised with their own hands, and have been painted with them, or with those of family and friends. It has been necessary to learn to cook, to keep the accounts, to cultivate the ingredients of the dishes, to obtain quality, reliable and constant suppliers. We have had to think about marketing and the financial part, betting on clean energy, for decoration that is nourished by local artists and reuse or recycling. Everything had to be thought about and done personally.
The history of these entrepreneurs is usually similar. As in other cases that we know, these towns, these corners of the geography that send their local inhabitants away without tears on the way to the big cities, fall in love with those who discover them almost by chance. Clayton and Rachel, a couple who spend a vacation in Almería and instead of staying in a deck chair on the beach, they go into the province. They wander and find, discover the wonders of the Lubrín, Sorbas and Bédar region. Step by step, you get to know the land, the people and the buildings. And they fell in love with one of them, the Casona Granado, in the El Pilar neighborhood of Lubrín, a name that didn't want to say anything and now says everything.
Clayton is a born entrepreneur, one of those people who is a pleasure to talk to and never wastes time. Hours pass, ideas and experiences intermingle and something better always comes up. A great communicator, but also someone who listens and learns, who works tirelessly. Like all his family, his wife Rachel as important as him, his children who are already as Almerians as they are British. A beautiful example of what Europe is, what it should be. Clayton is saddened when we talk about Brexit, but he does not stay still and tries to help understand the changes, to adapt to them to the large British colony that has chosen Spain, Almería and Lubrin as their permanent residence. Meetings, talks, concerts, multiple events, interesting and lively, fill the Albar restaurant, Casa Granado. Where locals could not or did not know how to put together new projects, people who have come from abroad have done so and have become a catalyst. Now public authorities and other entrepreneurs in the area have joined the project, creating synergies and revitalizing the social and economic life of the Lubrín region. One plus one must always be, at least two, or better three.
The case and the life history of the Morley family is the same that we have found in similar projects of native or foreign faimilias in many other places. In France , we have seen former diplomats, managers, computer scientists, teachers, farmers and enlightened winemakers, who have created small design hotels, boutique hotels, country houses and charming accommodation in the Gers in Gascogne;  in the Tarn-et-Garonne where Manuel Azaña rests; in its homonymous but different Tarn , in the Dordogne that nestles the Lascaux paintings… Finland is full of small design hotels where the owners are polyglots and cooks. In the azoresIn Portugal, smart people fight to create synergies and make sure their guests never forget them. In Tuscany , looking at Fiesole and Florence, Italian friends struggle every day without leaving a forgotten detail. In Croatia, Estonia, Switzerland, Greece … In Mauritius , even hotel chains have changed their perspective and are thinking more about ecology and the quality of care, so that their paradises do not deteriorate and travelers travel the world to bathe in its waters.
And of course, also in Spain, where we could put an example in each region. They are all different but in all these charming accommodations, the main charm is their owners . People who stand out for their intelligence, patience and resistance . Of all these characteristics, there are two that may be the main ones, assuming that intelligence is a sine qua non condition . The first, resistance , something that allows us to continue when things go wrong, when the numbers don't add up, when criticism and misunderstandings arrive. Something that obviates the hands that do not help when everything is crooked, and those that tap on the back when everything works. The second,passion , which always contains something irrational, something that changes the impossible into the possible. Something that allows you to forget what was not, and enjoy what is now.
Keep it up Morley Familly you are an example that should be emulated! See you soon!
Thanks.
Discovering Clayton and his family, the Casa Granado and the region of Lubrín, Bédar and Sorbas, the desert of Tabernas  and Almeria we owe it to the Provincial Council and the Almería Tourism Office , to Turismo Andalúz  and to Clayton himself who did everything possible so that our stays were fruitful. Without their support nothing would have been possible.
In particular, we owe the discovery of the area to Enrique Parra , a capable professional where they exist, who unites with his many qualities, the curious ability to read the minds of the members of El Giróscopo Viajero. A big hug for you, twinning, northern and southern coasts.
More information and Reservations.
If you would like to book a stay at Casona Granado, all you have to do is click on the link or visit their website.
How to get to Casona Granado.
From Almeria there are 76 km to the Pilar de Lubrín, by the A6 and A92 motorways and then by the National 340a. Mojacar and its beaches are just over 40km to the east. The car will also give us the freedom to discover the entire Sierra de Filabres and the Mediterranean coast.